A very common question is how to post photos or where do I host my photos?
There is another tutorial about
"How to attach photos to post".
This tutorial will deal with how to link photos hosted elsewhere.
During this tutorial I will show how to link to a few of the most popular free hosts.
First example is
Photobucket
. This is a popular site used by many users. It is also very easy to use. It took 2 minutes to signup - though I found it weird that I had to choose an education level that clearly only applied to Americans - any way I got signed up quickly.
Once I was logged on I had to upload a photo. In the image below I have just uploaded the photo. As You can see the form is very simple. Click on the browse button and locate the photo on Your computer, give it an optional description and hit submit.
When uploaded the form looks like below. You can organise photos in albums but I am not getting into that here.
Now You need to link to it from a post here and Photobucket make that really easy for You because they provide the entire link including the IMG tags required. Just place Your mouse inside the box titled "Img" hit CTRL-C to copy the selected text. Then You paste that into the post here and You are ready to go. (See under the links how the linktext You should insert should look like depending on the host)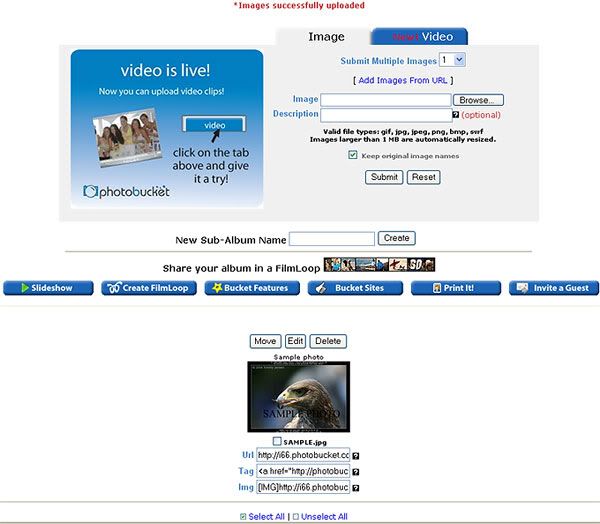 And here is the other photo just uploaded.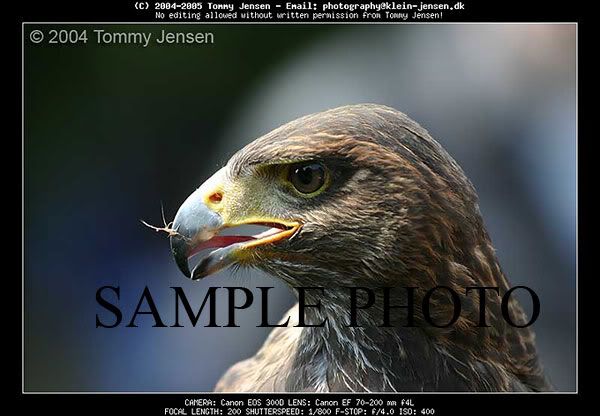 EASY
Using this method You can imbed more than 2 photos in a post.
However the POTN staff ask You to be considerate to fellow members and restrict the number of photos imbedded. If You have many photos You would like to show then select a few of the best and then link to a gallery.
We have seen some members imbed as much as 43 photos and latest a member imbedded 132 photos which is absolutely over the limit and posts like that are subject to be edited by the POTN staff.
Also it is a good idea to choose a creative and inspiring subject as well as writing some information about the photos. For example where they were shot, did something funny happen or do You have some information about the subject that might interest other members. These threads tend to get more views and comments from fellow members than threads with a "boring" subject and no text but just a link.
Here is a list of the most suggested sites where You can host photos. Some are free. Some are pay sites. If You know other sites please post them. But please only post real photo share sites. No need for links to "do-it-yourself-host-sites". Also if You have an sampel url like the one for photobucket please post it so I can add it under each site.
I have verified that all the links work and I have verified that imbedding works with Photobucket. I will test a few of the others too but only the free sites. Obviously I know that a lot of the others do work as I have seen them being linked so the date below is just an indication when I personally have tested that particular site.
* links provided below in the LINKTEXT line are sample links. Do NOT use those they are only provided to illustrate how the links should look like for the different hosts.
Free Photo Hosts
with confirmed direct linking feature.
http://www.photobucket.com/
(Tested 25/4-06: imbedding works with POTN)
LINKTEXT: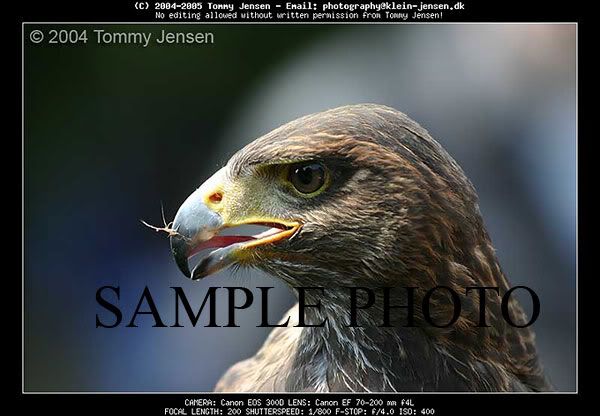 http://www.fotopic.net/
(Tested 25/4-06: imbedding works with POTN)
LINKTEXT:
http://imageshack.us/
(Tested 25/4-06: imbedding works with POTN)
LINKTEXT:
http://www.flickr.com/
(Tested 25/4-06: imbedding works with POTN) (actually a part of Yahoo)
LINKTEXT:
http://static.flickr.com/46/135016342_256ba21f54_o.jpg
http://www.bytephoto.com/
(Tested 27/4-06: imbedding works with POTN)
LINKTEXT:
http://www.bytephoto.com/photopost/d...sHawk.jpg?1443
http://www.photo.net/
(Tested 27/4-06: imbedding works with POTN)
LINKTEXT:
http://gallery.photo.net/photo/4387931-lg.jpg
http://www.thelensflare.com/
(Tested 27/4-06: imbedding works with POTN, but photos need moderator approval before it become viewable)
LINKTEXT:
http://www.thelensflare.com/large/sample_24073.jpg
Pay Photo Hosts
http://www.pbase.com/
(direct linking not possible with free account)
http://www.smugmug.com/
How to link
http://www.fotki.com/
(direct linking not possible with free account)
http://www.fototime.com/
http://www.my-expressions.com/
http://www.onlinephotographers.com/gallery/index.php
http://www.photoshare.co.nz/
http://www.photoshelter.com/
Other (pay or free)
http://www.imageevent.com/
http://www.myphotoalbum.com/
http://www.kodakgallery.com/
http://www.zoto.com/
Uncategorised
http://www.coolbrowse.com/
http://www.betterphoto.com/
http://www.photozo.com/
http://www.photoape.com/
http://www.shutterfly.com/
Other usefull links:
Image posting rules
Tutorial: Thumbnails with link to external image
Tutorial: Where to host my photos
Tutorial: Creating An Avatar in Photoshop & Paint Shop Pro